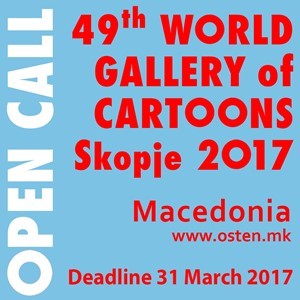 Dear friends cartoonists,

It is a time to conquer the world with your cartoons again!

OSTEN invites you to participate in the 49th WORLD GALLERY OF CARTOONS Skopje 2017!

Following our principle of creating and preserving the art on paper, only ORIGINAL WORKS (hand drawn cartoons, satirical drawings, and comics-strip) will be considered in the selection process. The deadline is 31st March 2017.

Apply! You can be part of our story...